RSA Solutions, Inc. (RSA) is the largest independent sales and marketing company representing woodworking software products and technology solutions for the woodworking industry worldwide. Our customers range in business from small residential cabinet shops to large cabinetry & millwork operations. Our woodworking cabinet software is powerful and easy to use, creating money-saving efficiencies in both the residential and commercial businesses.
EnRoute Software is suited to many different types of woodworking & cabinetmaking businesses. Our easy-to-use but powerful CAD/CAM software can help you increase your productivity at each phase of the production process beginning with design & ending with output.
EnRoute Software can be used as a stand-alone CAD/CAM program or in conjunction with other cabinet design software. Alone or together EnRoute will make your CNC router more versatile, more productive & more profitable.
EnRoute's industry leading Rapid Texture tool is a design tool that lets you utilize the shape of the tool to create a wide range of interesting surfaces. Rapid Texture can be applied to almost any surface, including simple fl at rectangles, relief surfaces, & any shape you can think of. And because you are using larger ball end mills & conic tools, the cutting time is kept to minutes rather than hours.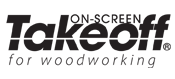 On-Screen Takeoff is an easy to learn estimating & takeoff software program that cuts your normal takeoff time in half. Imagine being able to bid 2 to 3 times more work than you do now. On-Screen Takeoff saves you precious time through the use of electronic plans. You can now quickly measure areas & lengths on-screen by just pointing & clicking the mouse.
View color-coded drawings to identify conditions & their quantities. Takeoff the typical area one time, & extend the quantities to all the appropriate individual areas with the typical groups feature. Complete your takeoff & make area assignments or phase adjustments after you are done without re-taking off the project. Save multiple hours of exhausting plan review with the overlay feature. When comparing two versions of a drawing, deleted items are in red & added items are in blue.
Streamline project setup by creating typical takeoff conditions called styles. Combine styles into sets to quickly drop-in multiple conditions to your bid.
Find Out More About OnScreen Takeoff
The ProCollector provides the user a fast data acquisition without mistakes. With the use of the ProCollector inaccurate measures & transposed digits while writing the data are a thing of the past. The process is easy & intuitive. Simply use the laser to shoot a few points to establish an origin of your drawing, then start collecting data. For 2D DXF drawings, only two points along a surface are needed for a straight line – the software will automatically calculate the corners. Irregular contoured surfaces like a wavy drywall backsplash or a fl owing reception desk can be automatically scanned & saved as a curve – give ProCollector start & end points & watch it do the work.
In 3D mode, measuring complex geometry is still just point & click. The onscreen handheld display lets you see the results instantly as you build the drawing & allows you to pan, zoom & rotate 360 degrees to make sure you have the data you need before leaving the jobsite. Save it directly to DXF or IGES fi le format & email it back to the shop from your smartphone – no bulky templates to scribe & transport!
Shaped by years of experience in custom, industry-specific programming, CIM-Tech offers a deeper, more robust software solution. Router-CIM Automation Suite offers a familiar Windows®-style interface, and its enhanced capability supports a variety of third party software to control other equipment.
Router-CIM ® 2013 Automation Suite is a complete CNC machine programming package. This versatile product combines Computer Aided Manufacturing (CAM) features with the power of AutoCAD®, the world's premiere Computer Aided Design (CAD) software. Router-CIM® 2013 can not only run inside the latest version of AutoCAD ®, it is also compatible with AutoCAD ® 2013, 2012 and 2011. Includes 64 bit support.