No Formulas Needed
Solid Modeling
AutoCAD Based
Backed by Stiles & Homag
SQL Database
Custom Training/
Integration Industry 4.0/ iFurn Catalog
The only global software strategy that enables users to develop unique "One Off" products without complicated data building process.
Build complex "Engineer to Order" products with real time 3D graphics reflecting non static configured custom assemblies.
Enhance your engineering team with a tool that will enable them to achieve better data, better graphics, and enhanced communications to the production floor.

With your existing design and engineer software,get instant live data connection to all your level of production.
NO increase in Employees
NO Additional capital equipment
NO Increase in Floor Space
Paperless Shop
NO long deployment process (3 Days)
Real Time Work Order Status
Google Calendar for scheduling all work cells
Mobil Application for Installation Management
Time Keeping for Job Costing and Pay Roll
TEAM Dashboard for production/Quality Status
Tracks work Cell production Balance
Generate data for the office and factory at same time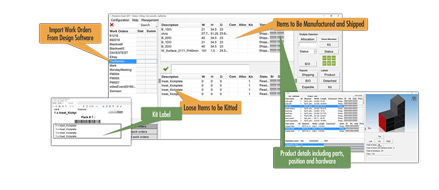 Track parts, products and projects with barcode and/or direct feedback controller
Be connected to your production and inventory status from anywhere, with your internet and network access